Rahyndee James - Vibrators Help Her Relax
Posted - November 5, 2013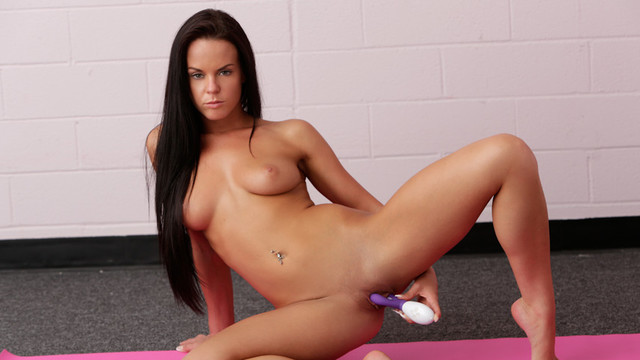 A morning of yoga leaves 22 year old Rahyndee James eager to get herself off for some post-orgasmic bliss. The super-fit hottie works her way out of her bra and panties and then does a few more exercises for good measure. When she can't stand the anticipation any longer, the cum craving cutie turns to her favorite vibrating toy to satisfy her bald juicy fuck hole.
»»» End «««
Alaina Fox - Cute Busty Babe
Posted - September 18, 2013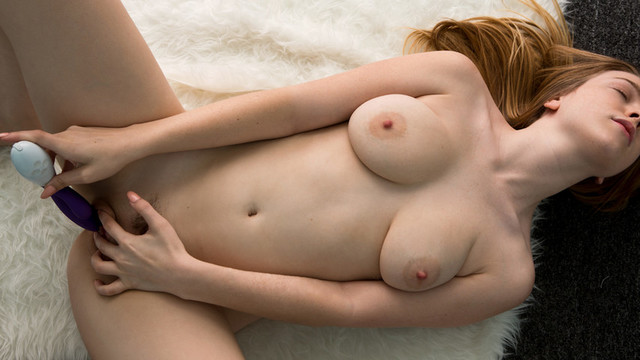 Alaina Fox is a 20 year old California babe with a big sex drive. Her black dress pulls away from her big boobs so that she can grope her tits, and her miniskirt slides up easily to show off her yellow thong. When the buxom babe is naked, she gives her whole thin body a long massage and then pleasure her cock craving pussy with a vibrating toy as her slit gets wet and creamy with delight.
»»» End «««
Hailey Holiday - Her Favorite Toy
Posted - July 17, 2013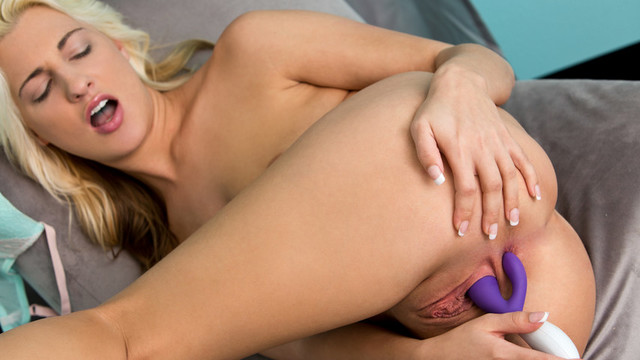 Hailey Holiday is a 22 year old bank teller with a wild side that she can't hide! This blonde babe peels her bra off, showing off her tanned tits before she slides her hands down her flat belly and slides her shorts off. Next to go is her sheer thong so that there is nothing covering her sweet shaved pussy. Hailey can't wait any longer to sate her cum craving snatch with her favorite Rabbit toy. Soon her moans of pleasure fill the room as she drives herself towards a breathtaking orgasm.
»»» End «««
Megan Salinas - Playing With Her Toy
Posted - May 12, 2013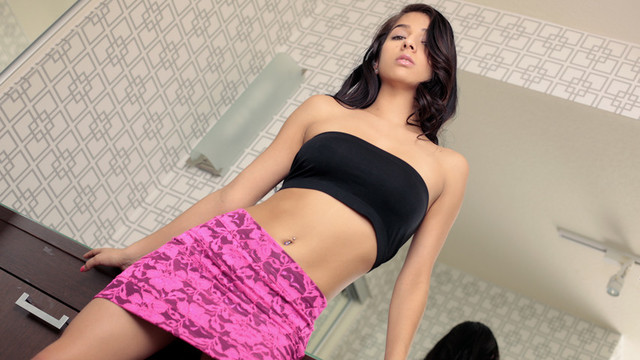 18 year old Megan Salinas is a Latina hottie who knows how to service her pleasure craving body. After slipping out of her shirt and playing with her big tanned tits, Mega n won't be satisfied with just her fingers! Only Megan's trusty vibrator sunk deep into her tight twat will satisfy this lusty sex kitten!
»»» End «««
Olivia Wilder - Bedroom Pleasure
Posted - May 1, 2013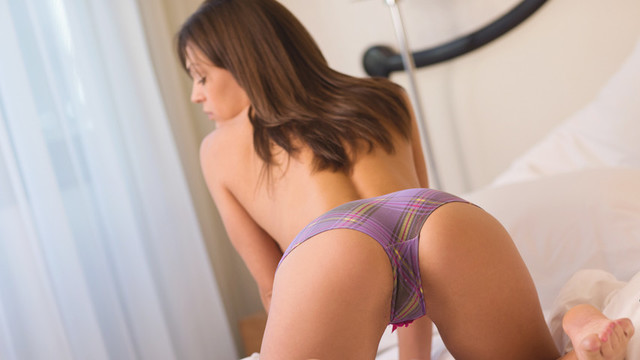 Olivia Wilder is 23 and crazy about sex. This brunette babe's matching bra and panty set are a big turn on that she soon removes as her horny body gets increasingly turned on. Naked and eager to have her bare pussy fucked, Olivia turns to her trusty Rabbit vibrator for an orgasmic good time.
»»» End «««
Chloe Foster - Toy Play In The Kitchen
Posted - April 13, 2013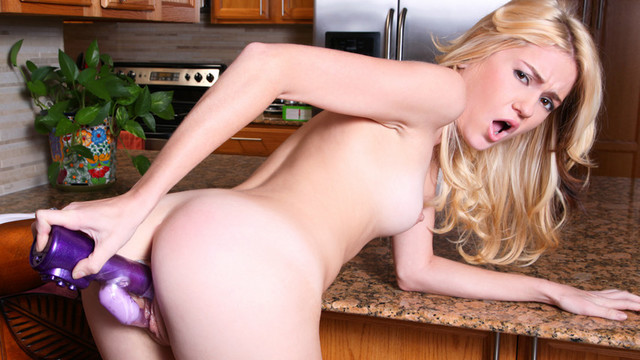 The kitchen is the perfect place for horny sex kitten Chloe Foster to have a good time. A slow flirty striptease is just the beginning; next, this blonde babe climbs up onto the counter and pulls out her trusty vibrating toy. She gives the purple head a kiss and a quick suck for luck, and then slides it deep into her slick creamy twat.
»»» End «««
Raven Rockette - Rocker Chick
Posted - January 20, 2013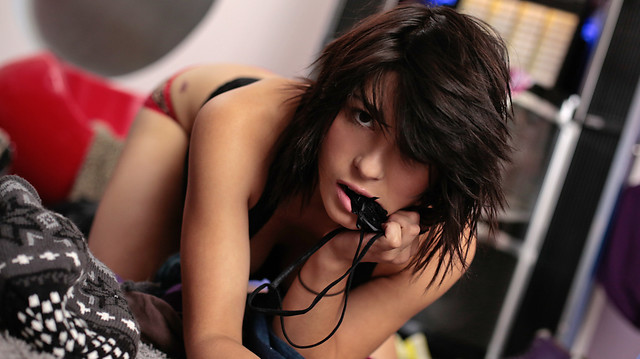 18 year old Raven Rockette will be happy to tell you that the most important part of any rock show is the dancing, and this certified nubile has perfected all kinds of moves that she can't show on stage. Her slender body sways to her own recorded songs as she strips out of her clothes piece by piece, revealing her big tits and pierced shaved pussy. When the taped soundtrack runs out, Raven finishes her routine by using a vibrator to make her own sweet music.
»»» End «««
Christy Lynn Outside Vibrator
Posted - October 10, 2012


21 year old Christy Lynn has always been one of the guys, but recently she has decided to embrace her feminine side, too. "I love BMX and trucks and all kinds of other stuff. I've even done some professional modeling for BMX! None of that's very girly, though. I think it's hard for my guy friends to see me as a woman, and I'd like to change that." Taking up adult modeling is one way that this all-American girl is trying to break free of her tomboy reputation, and she's quickly learning that she's a natural. With her long blonde hair, big smile, and California tan, Christy has the goods our cameras love to capture!




Dressed in a sheer filmy top that clings to her little boobs and gives glimpses of her pink areolas, Christy gives a smile that shows a glimpse of shyness that she tries to laugh off. "This is still pretty new, but I don't know why I'm nervous. I've modeled before in skimpy clothes and now I'm really excited to show myself off." She toys with the edge of her top, and then slowly pulls it over her head to expose her silky skin to the warm summer air. Her panties are next to go, and soon she is kneeling nude on the chaise lounge.




Reaching beneath one of the pillows, Christy pulls out a pink Rabbit vibrator and gives it a kiss. "You are going to make me so happy in a few minutes!" First, though, this cute coed needs to get herself warmed up and ready to take all her toy has to offer. Palming her tiny tits in her hands and pinching her puffy nipples, Christy slowly works her way down her belly and presses the heel of her hand against the shaved mound of her pussy as she begins to masturbate. If you want to watch this blonde goddess use her fingers and her vibrator to get herself off, head over to Nubiles.net now!
»»» End «««
Laney Rose Rabbit Toy
Posted - February 25, 2012


Twenty-one year old hottie, Laney Rose, was born and raised right here in the United States. She's a sweet heart with a very naughty side to her. The perfect blend of naughty and nice. A combination that every guy looks for in a girl. Not only only is Laney naughty and nice, she is also drop dead gorgeous. She has an angelic-like face, a body that is both hot and adorable, along with enough tattoos to make one think of her as a bad ass bitch but not so many that people think of her as a motorcycle riding bull dyke. She has dark brown hair that falls down to her waist in loose curls, her eyes are dark brown and sensual, and her skin is beautifully bronzed. In this sexually explicit photo shoot, Laney was dressed up in a bright yellow tube top and a pair of white shorts that were so see-through that you could see that she was wearing a matching yellow thong underneath them. She also wore a colorful necklace and white bracelets. She looked amazing.




The first article of clothing Laney stripped off was her white shorts. Sure enough, Laney was wearing a yellow thong underneath that was the same color yellow as her tube top. "Yellow is definitely one of my favorite colors if you couldn't already tell." Laney said with a sweet smile. She then turned around to give the camera a shot of her nice ass which looked super hot in the yellow thong and Laney showed it off to it's fullest extent. She shook her hips and bounced up and down making her booty jiggle in the most erotic way. Then Laney turned back around to face the camera and started sliding off her thong. It dropped to the floor and Laney's shaved pussy was revealed. It was just like the rest of her body-hot as fuck.




Laney pulled her tub top off and exposed her cute and tiny titties. Fully naked, Laney then took a seat on the white couch and spread her legs open wide. Her puffy pussy lips looked like they wanted desperately to be fucked hard. Laney must have been feeling the same way because at that precise moment she pulled out a big, rubber dildo that was pink and shiny and looked a lot like the infamous rabbit sex toy. Laney brought the toy to her lips, stuck her tongue out, and licked it from top to bottom. She then began sucking on it hungrily. Watch Laney use this toy on her horny pussy right now at Nubiles.net!

»»» End «««
Ava Jay Naughty Rabbit Hole
Posted - August 15, 2011


Ava Jay has gone home for the weekend. She needed a break from Sorority life before heading back to college for the Fall Semester. Her first day home, Ava Jay lounges in her room for a few hours before heading off to the Country Club to join them. Ava Jay spends her lazy morning running her hands over the girly pink linens in her bedroom, remembering all the naughty things she'd done when she was in High School and her parents were out of town. She'd made the boyfriend she gave her virginity to wait until her parents went to watch Le Tour de France, because she couldn't stand the thought of losing that without being surrounded by soft, safe things and her favorite color.





Ava Jay decides against wearing her little pink cami and super short shorts. Her parents have planned a lunch with all of their ritzy friends down at the club, so she should probably wear something dressier. So, she pulls off her cami to reveal her tiny teen titties. Next come off the shorts. Ava Jay hadn't been wearing any panties! Ava Jay knows that what they really want to do is show her off so that they can begin finding a suitable husband for her once she graduates College, but the only thing from her past that she wants to reconnect with is her old friend: the Rabbit. She'd forgotten to take him off to college with her, and is so relieved that no one has found him while she's been off at school. She runs her hands over it's length before turning it on to a low speed which she uses to tickle her titties and set her tight teen pussy to tingling.





Ava Jay loves her little Rabbit! Playing with the different speed settings, she quickly reacquaints herself with it. As she puts the pulsing shaft of the Rabbit into her slick pussy, Ava Jay instantly begins to climax. She works her toy deeper in for a second climax, pushing her Rabbit deeper into its hole, until it's little nose is buried into the folds of her clit, too. Ava Jay lets out a series of moans, her voice pitching higher and higher as each wave of pleasure courses through her tanned and trim body. Ava Jay realizes that she has to hurry, though. If she takes too long, her parents will come looking for her, and she doesn't want to get caught! But you can catch Ava Jay, our naughty hottie from the Longhorn State, doing so much more than masturbating, but only at Nubiles.net.


»»» End «««